SEE THE

BEST

SCHOOL ASSEMBLIES EVER HERE!
ARE YOU LOOKING FOR THE

'WOW'?
Audiences say Marc's events are different because of the inspirational messages under all the fun. We only live once, right? WRONG! We live everyday – and what we do in life echoes an eternity! Life can be tough and we all need more encouragement and more hope.
Inspirational Ventriloquist, Marc Griffiths, provides this – and in hilarious ways!
DONT BE SLOW, BOOK THE NEW SHOW!
'BE A HERO!' Inspired by stories of real life animal heroes, children learn to help and respect others. A hilarious and inspirational new show, full of big puppets, exciting magic and inspirational messages!
BOOK THE SHOW
34 YEARS INSPIRING  AUDIENCES TO
THRIVE
Marc Griffiths'

inspirational ventriloquism performances and workshops help audiences discover and love who they are, enabling them to thrive and live great lives.
Marc has presented more than 5000 inspirational events and school assemblies. He also runs motivational sessions for staff in educational, conference and business settings. He performed on

Britain's Got Talent

and has won multiple national awards:
Wales "Young Entrepreneur" National Award Winner

LARIA National Educational Research Winner, UK

New Media "Best Children's TV Program" Winner, USA, 2012

GOLD Social Entrepreneur National Winner, London, 2012

Popster European TV Talent Show, Finalist, 2015, Holland

Welsh Factor Winner "Best Speciality Act in Wales," 2015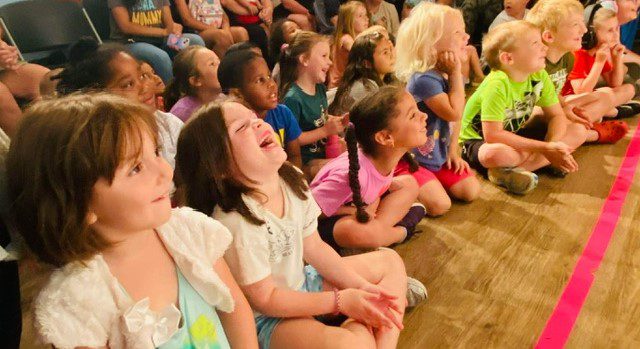 "Mr Griffiths is superb. He has received national awards for his work, which were featured on national television. His genius and uniqueness in educational entertainment make him one of the best artists in this arena in the world."
"Marc's session 18 months ago completely changed my life. It gave me the courage to take action and reinvent my world professionally and personally. I have notes from his talk stuck all over my kitchen!"
"I had tears running down my face. So funny! He was great with the children and really great with my staff. It's what he carries underneath the fun and laughter. It's inspirational. It changes lives."
BRING MARC'S
LIFE-CHANGING
PERFORMANCE TO YOUR BIG EVENT OR SCHOOL
DISCOVER STAFF WORKSHOPS
Inspire your staff with virtual or in-person motivational staff workshops. Increase employee happiness and improve results. Contact Marc to discuss your team's unique needs and book an event.
FAMILY SHOWS & ASSEMBLIES
Choose the right theme for your big event, family show, summer camp or school assembly. Each theme is tailor-made for any specific event. All shows are hilarious and inspirational.
Marc has written 3 inspirational books for kids, youth, and adults. For children and adults alike, these books will help you live a happier and more fulfilling life. Check out these amazing books from Inspirational Ventriloquist, Marc Griffiths.
CONTACT MARC
TO BOOK YOUR EVENT!
or fill out the form below.